Manufactured Wealth: Building Your Mobile Home Park Portfolio
September 14, 2021//4:30 pm

-

6:00 pm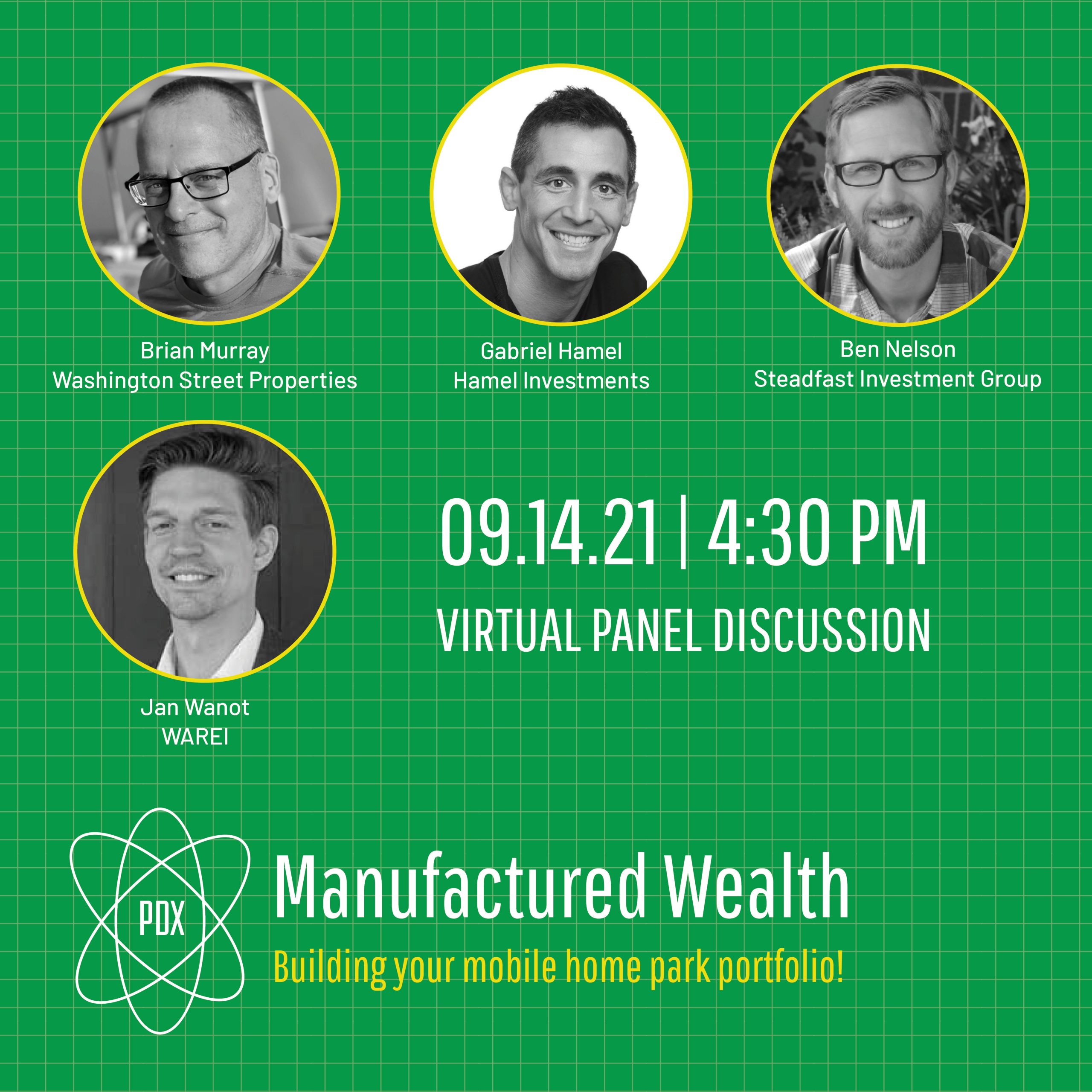 Join us for September's panel discussion—Manufactured Wealth: Building Your Mobile Home Park Portfolio.
In this moderated discussion our panelists will share their experience investing in mobile and manufactured home parks. They'll offer advice on finding, funding, and managing these properties in order to build wealth and achieve a high ROI!
Our panel of experts includes:
Brian Murray, Washington Street Properties and Open Door Capital. In 2015 Brian was recognized with a Gold Stevie Award for Executive of the Year in the Real Estate Industry. He is the author of the bestselling and award-winning book Crushing It in Apartments and Commercial Real Estate, and co-author of The Multifamily Millionaire, Volumes I & II.
Gabriel Hamel, Eugene-based real estate investor. Gabe is a seller financing expert, and currently holds over $25M in real estate holdings and a total of 226 units in different asset classes. This includes 4 Mobile Home Parks in Oregon and counting.
Ben Nelson, Yamhill Valley leader, broker, and investor. Ben has specialized in the in-park manufactured home niche for almost a decade. He's brokered and flipped hundreds of individual homes during that time. With the knowledge he's gained over the years by being heavily involved in this space, he's now turned a portion of his business towards manufactured home park acquisition through his company Steadfast Investment Group, which sources potential investment opportunities and helps individual investors join together to purchase larger assets for better returns.
Jan Wanot, Seattle-based real estate investor. He owns 85 cash-flowing units across a variety of asset classes including single-family, multi-family, assisted living, mobile home parks, and RV parks. Jan teaches real estate investment through a class he created called the Step 1 Masterclass and loves to build community through his Facebook group WAREI.
After the discussion, stay on the call for Q+A and interactive breakout room networking!
CE credits are available for licensed brokers. Investor Lab members can register through our online platform linked here!
Not a member? You can pre-register and attend this event for free using the link below!
First Time Pre-Registration