Panel Discussion: Adding Value with ADUs
June 8//4:30 pm

-

6:00 pm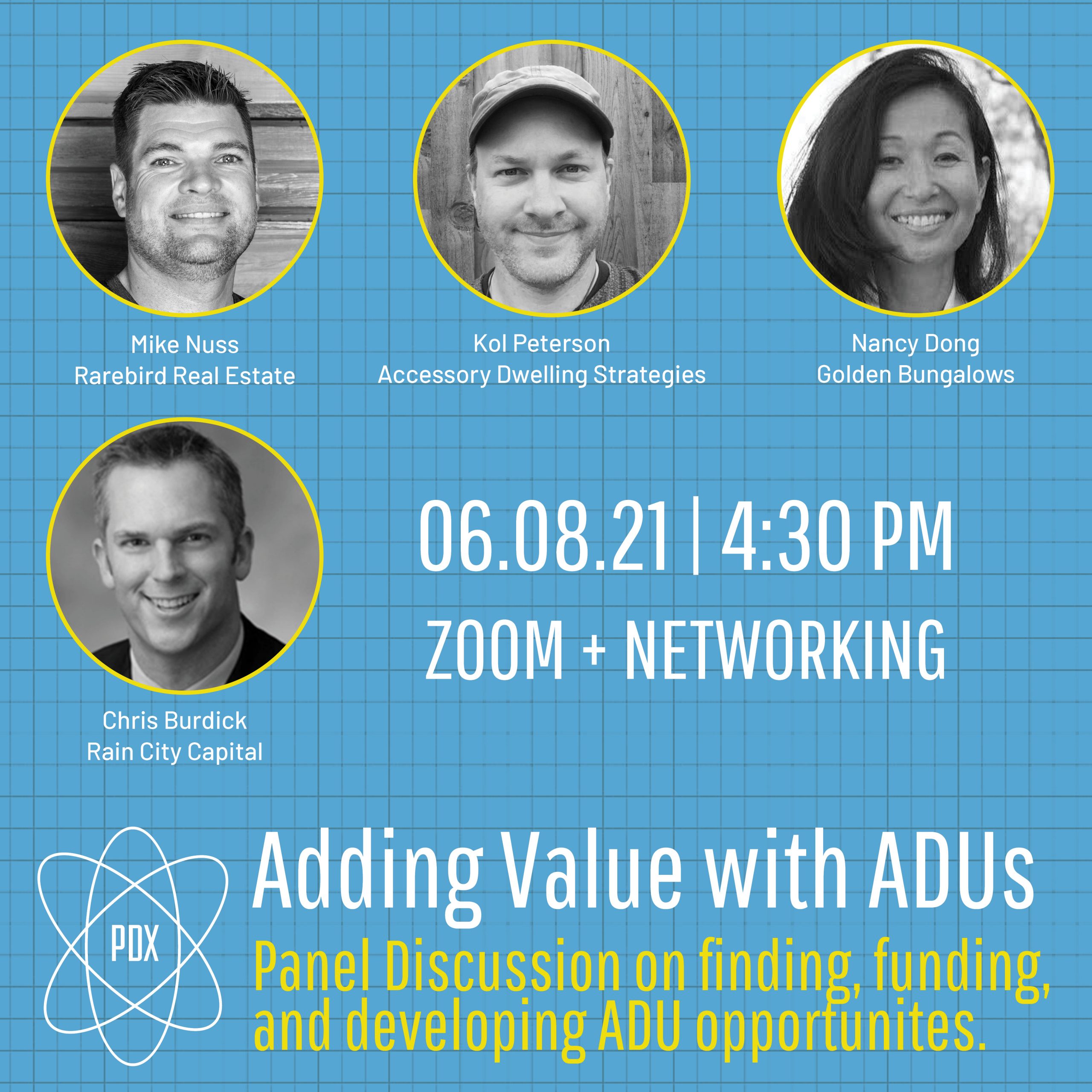 Join us for our June networking event and panel discussion: Adding Value with ADUs.
In this moderated discussion our panelists will shed light on finding, funding, and developing accessory dwelling unit opportunities.
Our panel of local ADU experts includes:
Mike Nuss, co-founder of Rarebird Real Estate. As a local investor and small-scale developer, Mike has completed a number of ADU projects and, with RIP zoning changes, is planning to include ADU development in his business model. With more than twenty years of appraisal experience, Mike is a recognized expert in finding and predicting the future value in properties of all types.
Kol Peterson, owner of Accessory Dwelling Strategies LLC. Kol has helped catalyze the exponential growth of ADUs in Portland over the last decade through ADU advocacy, education, consulting, policy work, and entrepreneurship. He is the author of Backdoor Revolution-The Definitive Guide to ADU Development. He is also the owner of Caravan- The Tiny House Hotel, the first tiny house hotel in the world, and organizer of Portland's popular ADU Tour.
Nancy Dong, CEO of Golden Bungalows, Inc. Nancy is a designer and builder of ADUs in Portland and Southwest Washington. Her focus is on creating backyard bungalows that allow older owners to invite multi-generational living, stay connected to the community, hold onto their assets, and create an income stream. Her mission is to save the planet for future generations by minimizing the impact of traditional materials used in the construction industry and innovating with hempcrete in order to reduce waste and bring affordable, accessible ADUs to everyone.
Chris Burdick, Sales Executive with Rain City Capital. With 25 years of experience in private lending, Chris is a local lending expert in the PNW. He has helped investors and developers fund countless ADU projects (which often won't qualify for traditional financing).
After the discussion, stay on the call for Q+A and interactive breakout room networking!
CE credits are available for licensed brokers. Investor Lab members can register through our online platform linked here!
Not a member? You can pre-register and attend this event for free using the link below!
First Time Pre-Registration